Introducing
QuietBite® APM
(Adjustable Position Mouthpiece). If you suffer from snoring or mild to moderate sleep apnea, QuiteBite® APM is a proven dental lab direct treatment solution for both snoring and sleep apnea. It works by keeping the airway open and improves breathing while sleeping. QuietBite® adjustable position holds the lower jaw in a forward position so that it does not fall open during the night and cause the airway to collapse. The unique design allows the clients to "fine-tune" the position at home to achieve maximum results. The QuietBite® APM has a
96% success rate
and is the key to a restful night's sleep. APM® can eliminate the need for surgery, flow masks, or medications.
Our 4 Step Lab Direct Process
is designed to replace the need for a dentist visit and save you 70%. Our Lab Process will provide you a set of
Custom Fitted QuietBite® (APM) Snore Trays
for only $129 per set. Nothing has been proven to help you stop snoring better.
We absolutely guarantee it!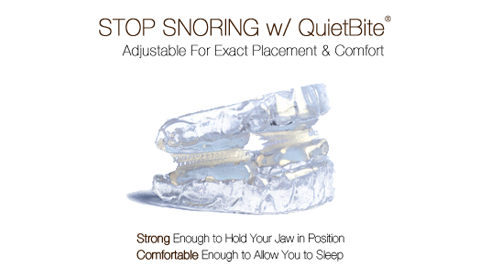 YES, send me my QuietBite APM® Device with a 100% Risk Free Trial.
I agree to pay $129 plus $19 for the 3 way lab processing today and if for any reason, or no reason at all during the first 30 days I decide this isn't for me...I can simply send the QuietBite APM Device back for a full refund. But, if I am like everyone else who orders I am going to love the results. In that case you keep my QuietBite APM and enjoy it, that's it Nothing More. No Hidden Charges.